"Anwar for PM, Azmin is homosexual" – Farhash Wafa
Haziq Abdullah and Farhash Wafa were released with police bail yesterday (July 23). Both were detained earlier as suspects in the alleged sex scandal involving Economic Affairs Minister Datuk Seri Azmin Ali.
Through a confession video, Haziq revealed that he was one of the men in the leaked sex videos, and claimed that the other man was Azmin.
Meanwhile, Farhash is a political secretary to PKR president Datuk Seri Anwar Ibrahim.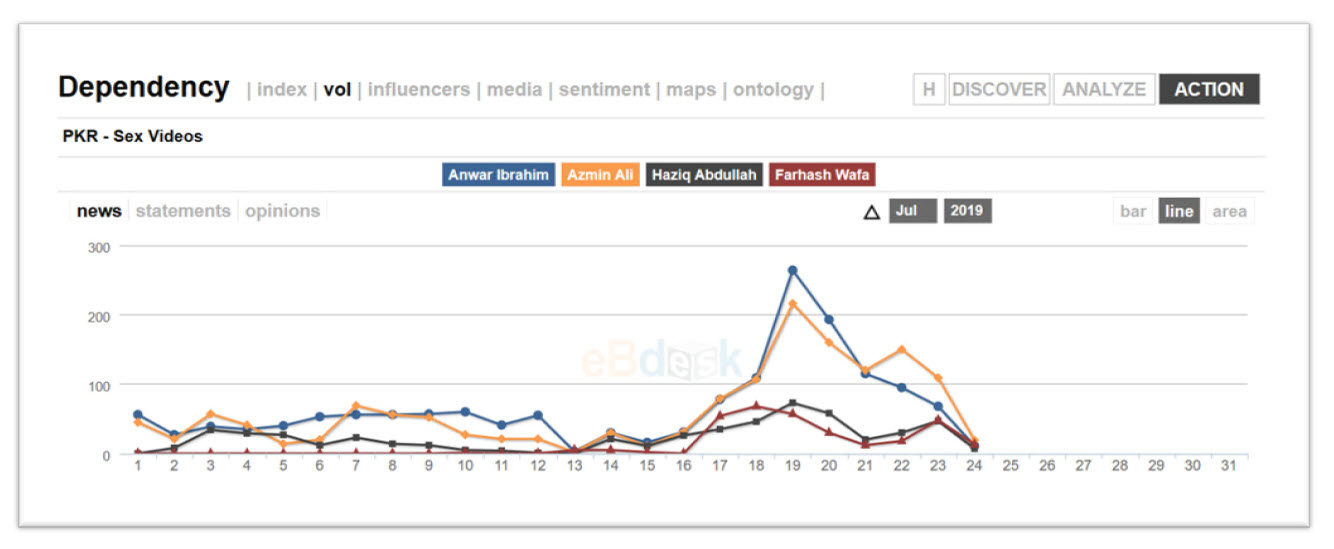 Farhash's arrest was revealed in the morning of July 17. Subsequently, Anwar initiated a war of words with Azmin. The PKR president asked his deputy to resign if it was proven that he was the man in the sex videos. In return, Azmin urged Anwar to look at himself in the mirror.
Following the joint statement of 22 PKR leaders against Anwar for making divisive statements, the PKR president has been slowing down on his media appearance.
From the influencers list of the topic "sex videos", it is noticeable that Anwar is no longer the top influencer for this week, instead he was replaced by Azmin.
Last week (July 14 to 20), Anwar was the top influencer on the topic with 620 statements, while Azmin was the quiet one with only 219 statements.
Nevertheless, the two PKR leaders have come to terms as both said that they are still a team.
Interestingly, Farhash chanted 'Reformasi' when he was released from detention. The word has become synonymous with Anwar as it was the name of the protest movement against Tun Dr Mahathir Mohamad when he sacked Anwar as Deputy Prime Minister for corruption and sodomy charges.
At the end of his speech, Farhash shouted that Anwar should be the next Prime Minister, while Azmin is "semburit" (a sexual act between two men).
Anwar's political secretary seems to be stirring up internal conflict in PKR despite Anwar and Azmin having come to terms. Will Anwar take disciplinary action against his political aide for his provocative statements?